4D Magnum Special Draw 2023 [Toto Special Draw Today]
4D Special Draw: The results of the 4D lottery are usually published on Wednesday, Saturday, and Sunday, but they may also be published on Tuesday. The results that are released on Tuesday are called Special Draws. You wonder when the Special Draw results will be released and the dates. Don't worry; we have everything you need to know about the Special Draw.
4D Special Draw
In Malaysia, Special Draws require approval from the Federal government before being conducted. That's why these results are very special. An average of 22 special draws are approved each year. 
Upcoming Special Draw Dates 2023
Tuesday, 24 Jan 2023
Tuesday, 31 Jan 2023
Tuesday, 07 March 2023
Tuesday, 30 May 2023
Tuesday, 04 July 2023
Tuesday, 29 Aug 2023
Tuesday, 31 Oct 2023
Tuesday, 26 Dec 2023
Special Draw Dates 2022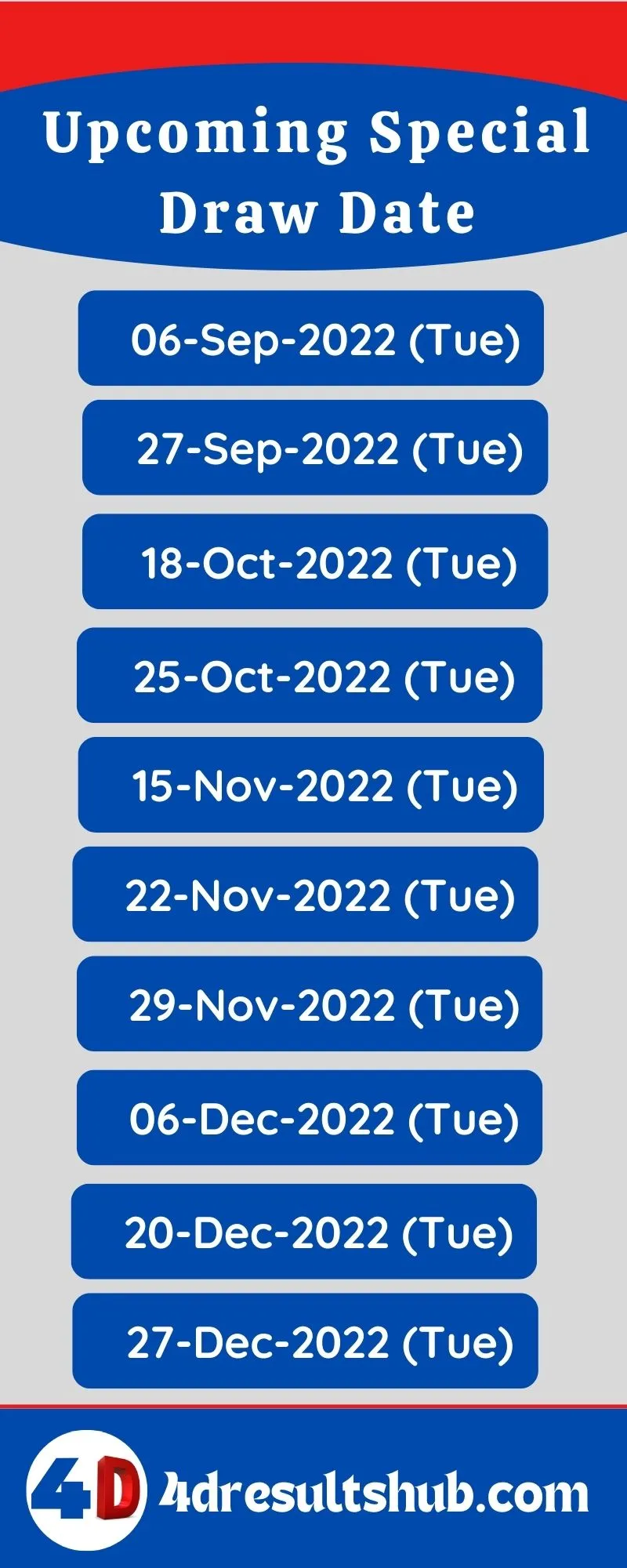 It primarily intends to increase the government's budget by launching 4D special draws. The 4D special draws will be posted on this page regularly. We offer 4d special draws on our website, so visit it to find out more.
Singapore 4d special draw date
4d malaysia special draw
Magnum 4D Special Draw
Sabah 88 4D Special Draw
Da Ma Cai Special Draw
Sandakan Special Draw
Sports Toto Special Draw
Special Cashsweep Special Draw
All results are published on their official website, but we will publish them here on this page. All the results are verified and accurate. It's a good idea to bookmark this page, so you don't miss the big chance to win the lottery.
Not only will we publish 4D special draw dates and results, but we will also publish 4D lottery results. So what are you waiting for? Bookmark the page to get lottery updates as soon as they are available.
4D Special Draw History
4D Special Draw launched on Tuesday because it is a very special lucky draw. The reason for its specialty is that it needs approval from the Authorities of Malaysia. It is now approved for 22 special draws every year, and the primary purpose of these draws is to increase government revenue.
Why Does Special Draw 4D Exist??
If you are wondering what the purpose of Special Draw 4D is. Here are some reasons why Special Draw 4D exists.
Under Barisan Nasional's (BN's) administration in 1999, the "special draw" was announced to raise funds for Nipah virus victims.
In 2018, there were 22 "special draws" before they were cut to 11 in 2019 and then 8 in 2020 by the Pakatan Harapan government.
In addition to increasing the federal government's funds, the special draw gives 4D individuals more chances to win cash and change their lives.
According to the most recent news, in 2022, the federal government will not expand the number of special draws beyond 22 per year for numbers forecast operators.
In Malaysia, illegal gambling is certainly a problem that needs to be addressed. Lottery providers must follow stringent requirements to manage the gambling industry properly. According to reports, the PN government, which replaced Harapan, reinstated 22 special draws.
The 4D special draw now increases the chances that lottery game participants will win and improve their lifestyles through the lottery.
Final Words
Hope The information in this article is very useful for you, and it will provide you with a lot of relevant information about the 4D special draw. Please explore our website for more information about the 4D lottery.
Thank you!